Are you one of many who has been experimenting with DIY facial treatments with extra time at home because of COVID? Maybe you've been experimenting with facial masks; the treatment type, not the type you wear over your mouth (although we hope you have this kind too). A mask is an good way to relax, care for the skin and practice self care. Let's talk about how to customize our clay masks with a variety of things you probably have at home.

Clay Mask Ingredients
Colorado Aromatics Clay Mask contains not just clays, but ground herbs, lecithin (emulsifier and emollient), rice bran oil (emollient),  glycerin (moisturizing) and brown rice powder.
Vitamins
Brown rice flour is rich in thiamin, vitamin B6, niacin, pantothenic acid as well as magnesium and phosphorus. Thiamine (vitamin B1), vitamin B6, niacin (vitamin B3) and pantothenic acid (vitamin B5) are all part of the family of B vitamins.  These B vitamins help with skin renewal, moisturize skin,  helps decrease wrinkles and helps with acne as well.  Repair sun damage.  In this mask, the powdered brown rice flour  also helps to exfoliate the skin.
Clays are rich in minerals that feed the skin. Our masks contain several different pure clays. Kaolin, bentonite and rhassoul. A clay mask can absorb excess oil from the skin so it's great for oily skin and can help decrease breakouts. But all skin types can benefit from a clay mask. It also can be a gentle and soothing cleanse while helping to minimize pores, exfoliate dead skin cells, and brighten skin tone.
Herbs in our Clay Mask
Mint, red clover, chamomile, lavender, lemon balm, thyme hyssop, raspberry leaf, strawberry leaf, and oat leaf are the herbs in our clay mask. They help sooth the skin but also provide beneficial antioxidants to the skin. Some of these herbs have also been reported to minimize wrinkles by boosting collagen.
How to Use our Clay Mask
Decide what liquid you want to use to wet the clay mask. In the above photo we have chosen beer, tea, and yogurt. But you can use a variety of liquids to wet the clay mask. These include water, aloe, hydrosol, and juice. Yogurt actually makes a nice creamy consistency for the mask. We also like the idea of making a seasonal mask by smashing up fresh fruit to us in your mask. Peaches are great in the summer, cooked pumpkin is great in the fall. Fresh fruit contains alpha hydroxy acids which can help exfoliate dead skin cells.
Put a teaspoon or two of the clay mask into a small cup and add just enough liquid to get it to a nice consistency. It just needs to be spreadable. Stir it up and then using a small brush or your fingers, spread it over your face. You can even put it on the back of your hands and on your neck if you want.
Now sit down and relax for a few minutes. This is a good time to have a cup of herbal tea. We like lemon balm, mint and lavender. Let the mask dry on your face.
I like to use a washcloth to remove the clay mask once it has dried on the skin. Wet the washcloth with warm water. Since there always seems to be a bit of clay sticking around, use our Meadow Mist milky cleanser to make sure you get all the clay removed from your face.
You can even do a double mask and follow the clay mask up with our Starbright Mask. This mask is formulated to help with hyperpigmentation. We find it can be slightly irritating on sensitive skin though. Our esthetician recommends doing these masks at night before bed. The exfoliation that occurs with a mask can make your skin more sensitive to sunlight.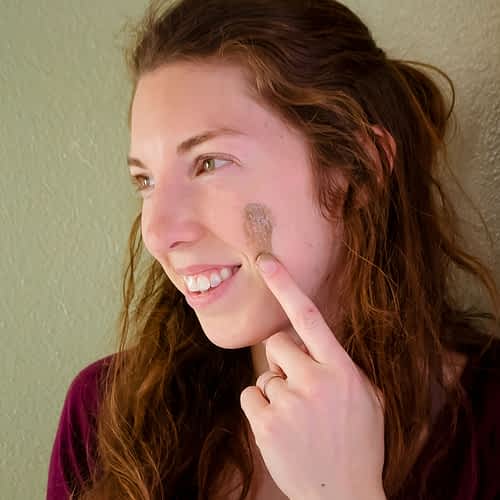 Moisturize
After using the clay mask or the Starbright Mask, spritz with one of our hydrosol face/body mists for moisture, Then follow up with a good serum and moisturizer. After using the facial mask, these products will soak into the skin better and provide more benefit. We recommend Springtide Gold face moisturizer.
You can use this type of clay mask once or twice a week. Once stay at home orders are over, this is a fun activity to do with friends and have a spa night together