Our Team
Cultivated Skincare is our skincare line made using herbs grown on our Colorado Aromatics farm. This farm to skin brand utilizes the power of herbs and science to create highly effective skin care products for you. These products are formulated to address the needs of the outdoor man and woman, particularly after sun care.  The Colorado climate, sun and the outdoor lifestyle can have damaging effects on the skin. After spending time in the sun, your skin needs help. By using antioxidant rich herbs and other actives, our line can help minimize dry skin, hyperpigmentation, redness & irritation and wrinkles. Your skin barrier function is an important role your skin plays in your overall health and we aim to protect it from damage. Our complete line includes: face care, body care, bath/shower products and hand crafted soaps.
You can find us during the summer at Boulder and Longmont farmers market as well as various stores in the Longmont and Boulder area. Sign up for our newsletter or like us on Facebook and/or Instagram to learn more.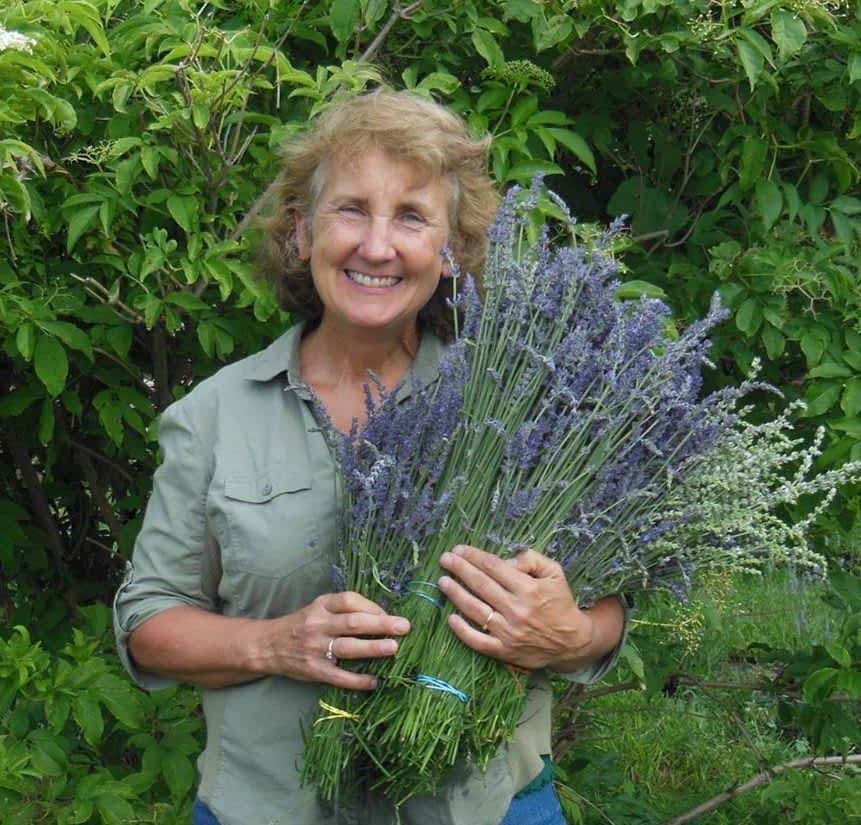 Dr. Cindy Jones
Cindy grew up hiking, gardening and now farming. As she began to see changes in her skin due to sun, wind, and the arid Colorado climate, she looked for ways to minimize those effects. Using her knowledge as a biochemist and herbalist she studied solutions to keep the skin as healthy as possible under adverse weather conditions.  Her hobby turned into a passion and she formulated Colorado Aromatics skin care line to be sustainable, highly functional and have great skin feel.
"Inflammation and oxidation of the skin cells are two key processes that accelerate the aging process" says Cindy. Herbs provide multiple and complex antioxidants and anti-inflammatory properties which help to combat signs of aging and skin damage caused by wind, sun and other environmental factors that we are exposed to on a daily basis.
Dr. Jones and her husband live on their Certified Naturally Grown farm (at 5,000 feet) where they grow  herbs for the Colorado Aromatics skincare line. From their farm they look at Long's Peak which summits over 14,000 feet and Mount Meeker.  She believes that the natural beauty of the herbs and their surroundings shines through in the product and, ultimately, you.
Cindy's passion for science, her love of herbs and the outdoors is the catalyst behind Colorado Aromatics skin care line. She brings a scientific perspective to the field of herbalism and has found her niche in formulating natural cosmetics.
Dr. Cindy Jones also owns Sagescript Institute and is a highly sought after product formulator / research and development consultant in the natural cosmetics industry. She brings a scientific perspective to the field of herbalism and natural skincare and has created a niche for herself in formulating natural cosmetics.
George Wahl
George is Cindy's husband and helps out in innumerable ways. On the farm, George helps with tilling, irrigation, building, and weeding. At the store, he helps with accounting, labeling, bottling, and problem solving.
You'll find him on Saturdays at the Longmont Farmers Market.
Leo Wahl
Leo is George and Cindy's son. He is the Operations Manager at our production facility.
He holds a degree in Conservation Biology and helps with a variety of tasks on the farm including implementing conservation management practices that enforce our sustainability values. This includes planting a native tree windbreak, identifying and managing invasives, and surveying wildlife.
Fern Crossway
Fern is responsible for photography, content creation, and many other tasks. She works behind-the-scenes at the shop and on the farm.
She also holds a degree in Conservation Biology and has had an important role in the conservation projects on the farm including breeding and releasing monarch butterflies, working with Leo on a flora and fauna survey, and planting native trees and herbs.
Interns
We frequently host interns from a number of different programs including herbalism, nutrition, horticulture and business.
Volunteers
We have volunteers who join us on the farm for weeding, harvesting and processing herbs. Many of these volunteers are herb students while others just enjoy spending time outdoors helping to keep us Certified Naturally Grown. I have to say, our volunteers are some of the most interesting people I've met. If you are interested in being on our volunteer newsletter list you can sign up below. Note that this is different than our Colorado Aromatics or Sagescript Newsletters and is meant only for those wanting to volunteer on our farm. We also occasionally take herbal interns on the farm and business interns in the shop.