Winter squashes are a great source of vitamin A, as well as vitamin E, thiamin, niacin, folate, pantothenic acid and more. All of these are great nutrients to help your skin look and feel its best going into winter. Even better, squashes are low in carbohydrates. These squashes, such as butternut and pumpkin are readily available now at your farmers markets so stock up for the winter. We grew quite a bit of butternut squash on the farm this. I like to make them in a variety of ways but this butternut squash soup is one of my favorites.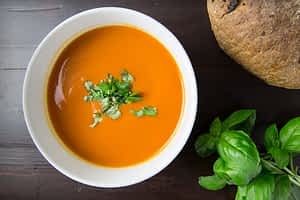 Ingredients:
2 tablespoons olive oil
1 onion chopped
1 clove garlic
½ teaspoon chopped fresh ginger
1 medium carrot chopped
1 medium potato, cubed
1 medium butternut squash; peeled, seeded and cubed
1 quart vegetable broth
¼ tsp nutmeg
Heat olive oil in a soup pot and add onion and garlic. Heat slowly until onion is clear. Add carrot, ginger and potato, stir. Add broth and squash and bring to a low boil. Simmer for 40 minutes or until vegetables are tender. Use a stick blender to blend until smooth. Add salt, pepper, and nutmeg.
Enjoy this with your favorite bread.
Do you have a favorite fall recipe for squash?