We had our esthetician, Laura Lee, develop this facial using Colorado Aromatics products.  All of us here at Colorado Aromatics received the facial and thoroughly enjoyed it.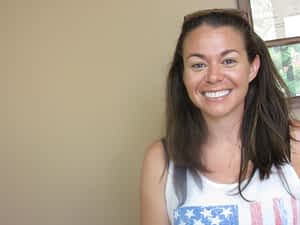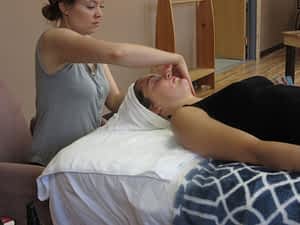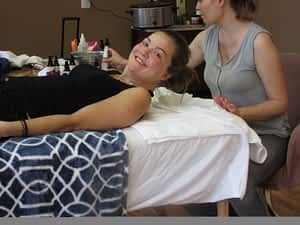 | | |
| --- | --- |
| What you will need: |   |
| 3-4 warm, wet, washcloths | Your choice of 7 Herbal Hydrosols |
| Yarrow Makeup Remover and Oil Cleanser | Meadow Mist Exfoliating Cleanser |
| Starbright Brightening Face Mask | Razz Tightening Serum |
| Parsley Eye and Face Serum | Springtide Gold Face Cream |
| Mountain Mist Hand and Body Lotion |  Herbal Relief or Allure Lip Balm |
1. Begin by massaging a large pea size of Yarrow Makeup Remover & Oil Cleanser onto dry skin, covering all of the face. Using a warm, wet cloth remove the cleanser from the skin. Skin impurities and makeup will be attracted to the oil and will easily glide off skin.
2. Spray the skin with chosen hydrosol until damp, then apply Meadow Mist Facial Cleanser in a circular motion. This cleanser will provide mild exfoliation with jojoba beads and cleanse the skin more deeply, removing any lingering impurities. Remove with a warm, wet cloth.
3. Next, apply the Starbright Brightening Mask to the skin and let sit 10-15 minutes. This mask will provide mild exfoliation, hydration and will brighten hyper-pigmentation. Hyper-pigmentation ingredients may irritate sensitive skin. If this happens remove the mask immediately and spritz with a hydrosol. Otherwise, remove after 10-15 minutes with a warm, wet cloth.
4. During the mask time, give a hand and arm massage using Mountain Mist Hand and Body Lotion (citrus or lavender).
5. Spray the skin with a hydrosol, then apply Razz Tightening Serum to the face. The hydrosol will restore skin pH and provide antioxidants. This serum will lift & tighten the skin and reduce puffiness. Continue to lightly massage into face in a circular motion until the serum has been fully received by the skin.
6. Again spray the skin with a hydrosol, followed by an application of 4-5 drops of Parsley Eye and Face Serum. This serum, packed with Vitamins A & K and organic Macadamia nut oil, will reduce fine lines and dark circles as it replenishes the skin. Use this oil to give a facial massage with this tremendously nourishing and luxurious oil.
7. As a final moisturizing step, use Springtide Gold Face Cream (after spritzing with a hydrosol, of course!). This exceptionally hydrating cream will boost collagen production and fuel skin rejuvenation with an extra boost of anti-oxidants.
8. Finally, apply Herbal Relief Lip Balm or Allure Lip Balm to the lips. The conditioning oils in both are rich in phytosterols, carotenoids and vitamin E. Herbal Relief contains lemon balm extract to reduce the incidence of cold sores and prunella to soften lips. Allure contains collagen promoting ingredients to plump lips.