Colorado Aromatics has always been committed to being a sustainable business and having as low as possible impact on the environment. I grew up with these values and so it almost seems silly to me to promote ourselves as a green business because I feel it is expected. But we have recently signed up with our city to participate in the 'Longmont Sustainable Business Program' which also requires us to participate in the 'Green Biz Tracker'.  One of the requirements for these programs is to share with customers what we are doing to be sustainable. We included Sustainability as one of our Core business Values here, but this blog is my way of sharing some of our specific practices with you.
First, we acknowledge that practicing sustainability is serious and important. We want to be an example. Our business is twofold as we are a farm, as well as a manufacturing company. So we will address both.
In the formulating and cosmetic manufacturing side of the business here are some things we do in house:
Recycle. 
We have several recycling containers set  up in our business. We use a lot of plastic distilled water jugs which are either reused to store some of our herb extracts and other ingredients or they are put in a recycle bin. 
Boxes that come in full of ingredients are either reused for shipping, or broken down and put in box for cardboard recycling. We also have a bin where we collect all of our used paper and other miscellaneous recyclable materials (soda cans). These items are taken to the city's Recycle center when necessary. Luckily, this center is located quite close to us.
Reuse. 
For sanitary reasons, we do not promote refilling customer bottles. We do receive many small jars sent to us for microbiology testing though. These are typically emptied, washed and reused in house for various samples produced in formulating.
We reuse as many shipping boxes as we can for reshipping. We also reuse all packing materials that we get in; paper, packing peanuts, etc.  Plastic bags that come in holding ingredient bottles are reused in our shipping area as long as they are clean. 
Paper that has already been printed on becomes scrap paper for us to take notes on.
Compost. 
Leftover herbs that have been used to make extracts are taken back to the farm for composting.
Product Packaging. 
We search for affordable, recyclable packaging for our consumer products. We constantly struggle in this area and sometimes consider glass packaging. However at this time we think that the extra cost of glass, the weight of glass increasing shipping costs, and the dangers of glass breaking in the bathroom do not warrant us using glass containers at this time. 
Selling our product at farmers markets also makes glass an impossible choice. Many times our booth and tables have been blown over by the wind. If we'd had glass containers our entire inventory would have been broken.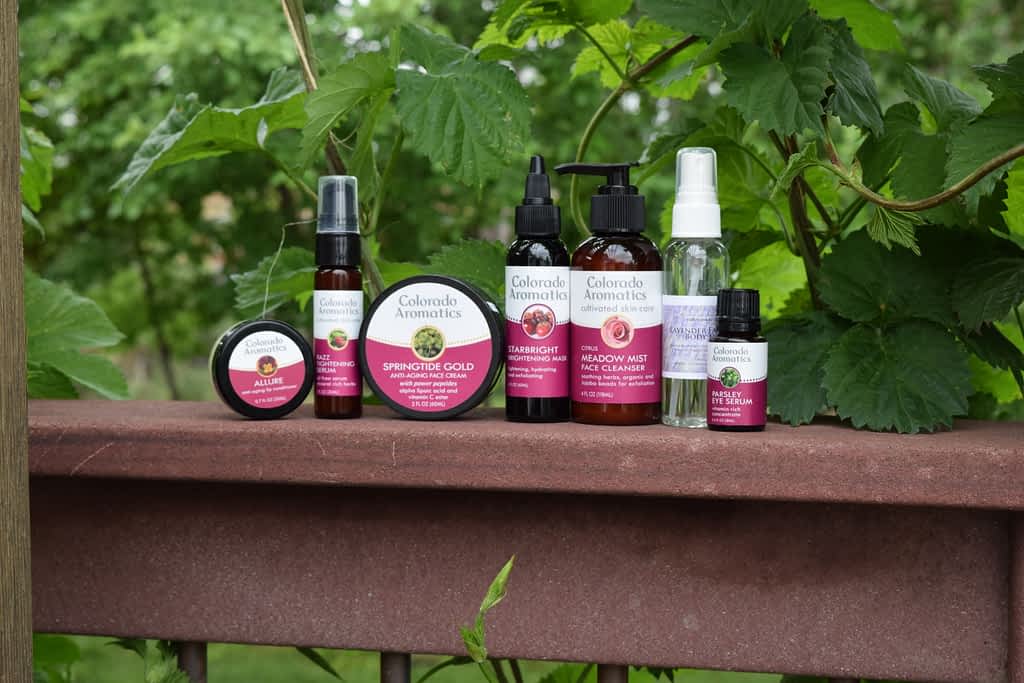 Product Ingredients
As a natural skin care line, we use ingredients that are sustainable. Plant based ingredients are a renewable resource because they are planted every year. We also look for ingredients that are biodegradable as that is an important part of sustainability. We do not want products that build up in the environment.
Shipping. 
When we ship customer boxes, we use compostable materials that include paper and peanuts. We will occasionally re-use reuse plastic air bags that have been sent to us in a shipment.
In reading some articles on sustainability in other business I want to address a few things. You can read this article on the Top 10 Sustainable Business Practices you can Implement Today.  These tip are their tips.
Empower employees. We have a very small team and I think everyone is on board to by a sustainable business.
Formalize your commitment to sustainability. That is the purpose of this blog.
Turn off lights and electronics. Lights are turned off when we leave at the end of the day and computers are on 'sleep' mode.
Go Energy Efficient. We have installed some LED bulbs and will put in more. We have a motion sensor light in the bathroom.
Conserve water. We have a low flow toilet. We are mindful of how much water we use when cleaning.
Recycle paper. We recycle our paper and utilize paper already printed on for scrap paper.
Reduce business travel. Travel makes a big impact on carbon footprint. However, being a small company, this is not really applicable to us. I am however going to do some online classes as opposed to travel as a speaker.
Forge local partnerships. We are happy to have just found a local company who can supply us with shipping boxes, tape and other packaging supplies.
Invest in a digital filing system. This we feel is not applicable to us as a small company.
Create a Green Team. As a small company, all of us are on the 'green team'.
Besides the above mentioned steps that we take to be sustainable, we also donate money to groups that promote conservation and sustainability. These include the Nature Conservancy, the Sierra Club and locally, Sustainable Resilient Longmont.
I love the outdoors and saving our planet for future generations to enjoy is important to me. This goes hand in hand with our mission of promoting an active, outdoor lifestyle. I hope to be a good steward.
Since this post, we have also joined 1% For The Planet.