I love a pint of  a good American IPA and find that it does help relax me and brings me stress relief. Beer also has a place in the spa. Hops have been known for years by herbalists to be a nervine herb that supports the nervous system.  It has pain relieving properties, is sedative and promotes sleep.
In fact, we grow hops on our farm and use them in our dream pillows to help promote sleep. Hops are also very useful for skin care because they decrease inflammation and promote skin hydration. The phytoestrogens in hops help reduce wrinkles and improve collagen.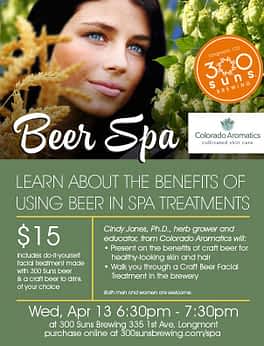 Some skin care professionals have taken note of these, both in Europe and the US. We do use hops in several of our products including Coolness Aftershave and Red Rocks Beard Oil, but some spas also use beer in treatments. I find this so intriguing and appealing that I am going to give a presentation on Beer in the Spa next month at one of our local micro breweries, 300 Suns. Can you imagine sitting in a tub filled with beer as you pour yourself a pint from the spout? Ahhh. Ok, maybe that is a figment of my imagination, but please, let me have my fantasy. Here's the details on the talk that you are going to want to attend!
For a mere $15 you can attend the presentation, have a pint of your choice and give yourself a beer facial mask!
This happens on Wednesday April 13 from 6:30-7:30 pm at 300 Suns,  335 First Avenue (they are practically our neighbors), Longmont.  You can purchase your tickets here. No time for dinner? Did you know 300 Suns now serves food?
We'll see you there!
I've previously written about hops here.