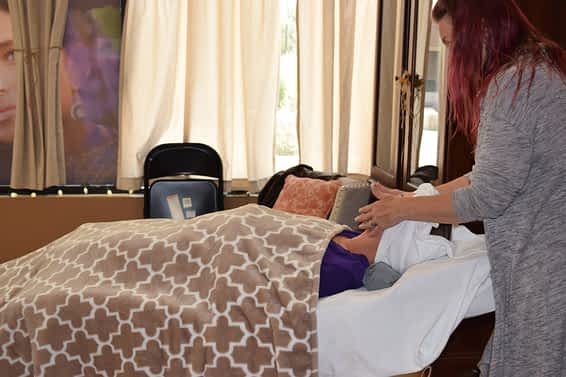 Our goal is to show you how the power of herbs and science can transform your skin. We provide spa services in our storefront. Because it is not 'private', it is perfect to come with a friend for spa parties.
Enjoy having your face cleansed, exfoliated & nourished with our full facial line of natural, antioxidant rich ingredients designed to help counter the effects of living it up in this alpine desert we call home. Includes arm massage and hair mask.
---

For those with less time, we offer a shorter up version of the Colorado Facial. You can still have all of the wonderful products applied to nourish your skin. Your mask and massage time will be a bit shorter, but you will be in and out in 30 minutes for only $35.
---
For the Hands: A warm soak to loosen those joints followed by an exfoliating Botanical Sugar Scrub and Mountain Mist Lotion Massage.
For the Feet: A warm herbal foot soak followed by an exfoliating Botanical Sugar Scrub, then a foot massage and application of Sole Pleasure Foot Butter.
Book our
Natural Spa Mani or Pedi
to have callous care where applicable, nails trimmed, shaped, cuticles pushed back, and oil buffed to a shine!
---

Sometimes we have to make compromises.
---


Our Colorado Facial with the wonderful addition of house-tied herbal poultice during the facial massage to further harness the power of our farm cultivated herbs. Take your poultice home!
---
Our Colorado Facial, with the "facelift-alternative" known as gua sha during the facial massage. Gua Sha uses flat mineral stones to reset fascia, encourage collagen production, drive fresh blood and oxygen to the skin surface.
---